Reported by Nicole Seitler
ArtRage is an amazing (and addictive) little program that allows you to paint with your computer! ArtRage was specially designed to mimic real world painting tools, like oil paints, pastels and markers with as much realism as possible. Each tool also has multiple ways it can be adjusted to help you achieve the same effects you can in the real world. For example, with the oil paint brush you can adjust all sorts of variables like the size of the brush, the amount of pressure for each stroke, how much paint thinner is added to the stroke, how much paint will be laid down, if you'd like for the brush to auto clean itself, etc. Here are some different effects I got from trying a few different brush settings (with a brush size of 30%):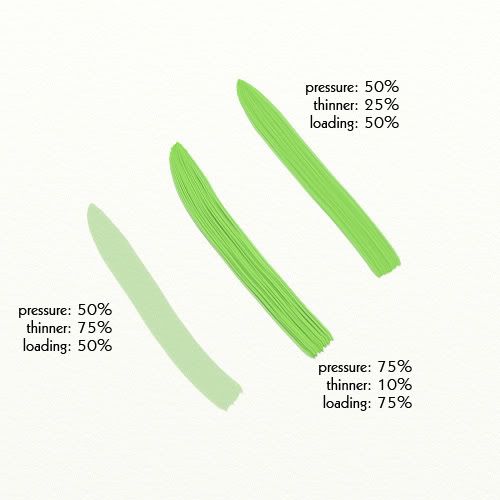 As you can see, the strokes are realistic! They look like I took a snapshot of a canvas I painted on. But it's 100% digital–amazing!
One really neat feature in ArtRage are the easy to use Tracing tools. Simply open up an image in ArtRage and not only can you use it as a guide to paint over it, you can also sample your paint color directly from the original image–automatically!–with each paint stoke! There's no need to stop and sample from the image with an eyedropper tool. The brush is smart enough to do it for you. Using that feature, I was able to easily turn this photo of a flower:
into this little painting:
And I'm no artist! Well, now I feel a little like one, thanks to this awesome program.
Another cool feature of ArtRage that appeals to many Digital Scrapbookers is the ability to create your own realistic glitter. There is an option in the paint palette to add metallic pigment to your colors. Using this option on the color palette and the Glitter tool, you can create your own beautiful digital glitters like so:
Then you can simply save your file (export it as a .jpg file), open it in your photo editing software and clip it to any object to create your own glittered embellishments!
Pros:
Lets you create realistic looking art;
Lots of variables to let you control your tools;
Great tracing tools!
Fun tools, like Glitter, Markers and Crayons.
Cons:
When exporting images, files are automatically saved at a resolution of 96 dpi, so watch your file size!
ArtRage is available as a free download. To unlock many of the features of the program, you will need to purchase the full version for $25.00, which for software like this is an incredibly low price!
If you'd like learn more about what you can do with ArtRage, be sure to check out the handy tutorials they have on their site. I hope you enjoy playing around with this fun little program! If you've played with ArtRage, be sure to tell us about your experiences! We'd love to hear your thoughts.
Click on the link at the top of the page to visit Craft Critique for comments, giveaways and more!