Reported by Nicole Seitler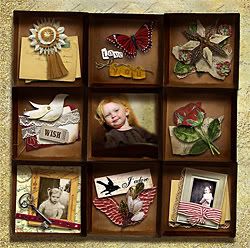 Memory keeping is one of the main reasons why we create scrapbooks, is it not? To make a record of our precious memories and save the trinkets that we treasure?
There is a new trend in the world of digital scrapbooking that takes memory keeping one step further: it is the idea that you can create a digital layout that includes "shadow box" within it to hold your favorite babbles, snapshots and other special mementos.
Designer Annie Manning of Paint the Moon (who in my opinion is the Queen of Realism when it comes to digital supplies) has created what I think are the best shadow boxes on the market! Here is a peek at her first collection,
So, why do I think that Annie's boxes are the best? Well, simply put–the girl is gifted when it comes to mixing photography and Photoshop! Before I even downloaded her Boxed In collection, I knew that each box would be impressive from the previous work I've seen her do. And I was right! Annie has packed many rich details into these little boxes. Here is a little snippet that I grabbed from one of Annie's boxes (shown here at 100%) to give you a taste of how great they are: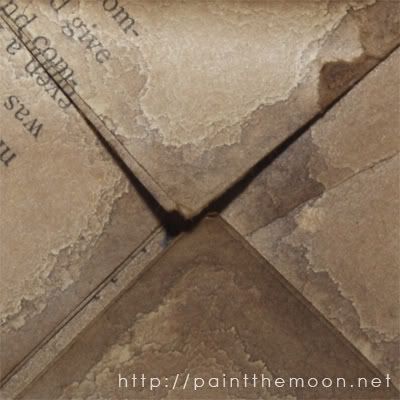 I asked Annie to explain a little bit of the background story behind her memory boxes and why she feels like they are such an exciting new trend. I turns out that each box in this collection has been handmade and then distressed by Annie. She has been creating handmade boxes for several years after her grandmother, a mixed-media artist, taught her a few of her own tricks and secrets. Each of these boxes have been photographed in fine detail, extracted from its background and given a unique shadow overlay. And it's these shadows that create such a real sense of depth and realism to the digital boxes as they fall over the objects and photographs that are placed inside of them: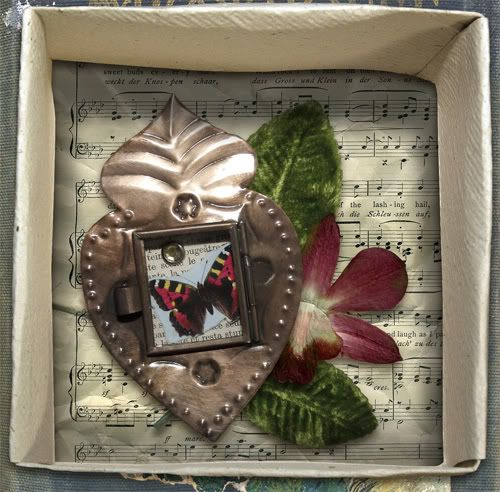 Annie says, "We scrap because we have a passion for our photos, stories and treasures. These boxes really show off those things that are dear to us… almost how a shadow box that preserves memories would in real life. You can also showcase special treasures: things such as favorite children's toys and books, heirlooms, etc." With that in mind, I created a layout with this sweet snapshot of my kids inside one of Annie's boxes: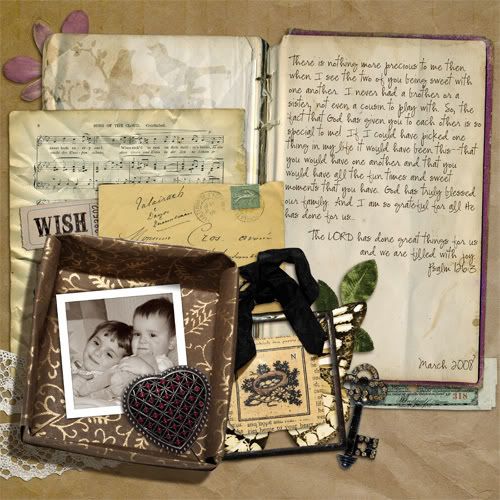 (Click for credits)
It's easy to recreate a realistic still life look including your own your favorite embellishments and photos! But you can also get very creative and push things to the other side of the specturm to create a whimsical scene inside the box–a whole other world! For example, here is this amazing layout from one of Annie's creative team members, Holly, who is an amazing scrapper: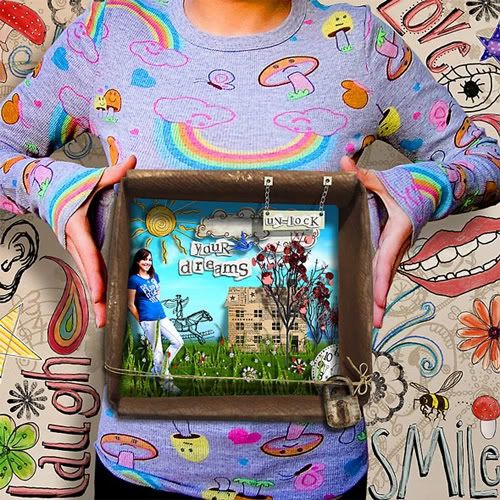 (Click for credits)
Annie says, "One hot trend is to extract your subject and have them 'coming out' of the box or sitting inside it. They really have many, many uses and are just a blast to use!" And I agree with her! The possibilities for amazing layouts seem endless to me. You are only limited as to what you can dream up when it comes to these boxes!
Now, this is a rather glowing review! You might ask yourself, "Does she think that Annie can do no wrong?!" Well, she does do a lot of "right!" But there was one thing that I felt was missing from the Boxed In collection: A set of realistic drop shadows for the outside of the boxes! The insides have such nice shadows, but when it came to the outside, I had to create my own to carry along the same sense of realism. This was not a problem for me, but it might be a problem for someone who's new to digital scrapbooking and doesn't know much about shadows. Other than that, I thought these boxes were simply incredible–a perfect 10! I love what Annie has brought to the digital scrapbooking world with her innovative creations.
Annie has created several sets of boxes all with different papers, materials and shapes. This collection contains ten individual boxes saved in various formats (layered .psd files and unlayered .png files). The boxes range in size from 5 x 5 to 6 x 6 inches. There is also one set of nine boxes in rows of three each that is almost a full 12 x 12. All the boxes have been saved at the industry standard of 300 dpi for high quality prints.
Annie has already created a Boxed In Set 2 as well as her latest, Boxed In Set 3, a collection of shabby and worn painted boxes, along with several sleek, dark woods with copper accents. Be sure to take a peek at them!
If you liked the pretty elements that I used in my layout and in my examples, they weren't my own heirlooms. They were part of Annie's lovely kit, Charms d'Antan. She doesn't just make nice boxes, folks! There are almost 80 beautiful vintage peices in this element pack and I think it's a steal at only $5.00. Each piece is a work of art all in itself!
I hope you've enjoyed this peek into one of the latest trends in digital scrapbooking! If I've turned you into a fan of Annie's work, be sure you also visit her blog to keep up with her lastest projects!
Happy scrapping!
Click on the link at the top of the page to visit Craft Critique for comments, giveaways and more!