Reported by Heather Voinski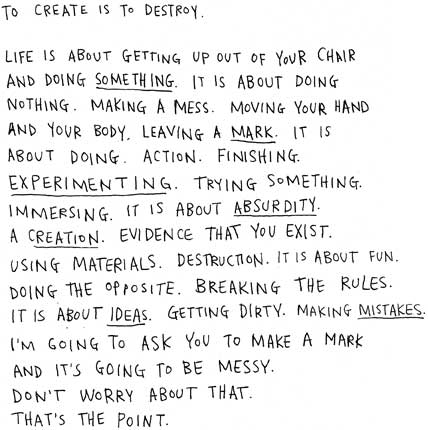 Wreck This Journal, by Keri Smith,encourages you to experiment and have fun while trying your best to wreck it! Flip to any page in the book and you will find a prompt. Fun prompts, destructive prompts, creative prompts to help your creative juices flow. These prompts range from things like cracking the spine, to ripping out pages, to taking it for a walk on a string or taking it in the shower with you!
It's interactive, and you make it your own by following these prompts. There is no right or wrong way, there is only your way! No two books look the same when you are done with the pages in this book because you make it uniquely yours.
I've always had the heart of a journaler, but every time I pick one up it never gets far. I start with good intentions, but life interrupts and it gets pushed to the side. When I read about this book on-line, I thought it sounded like a fun idea! I put it on my wish list and Santa answered my wishes with a pristine copy for me.
I didn't get to "Wreck This" right away. When I look back now, I knew there was a reason I didn't get right at it…I just didn't need to do it at that moment. I was already in the middle of a creative flow and had a lot of things going on. But not so long ago I began a creative slump! More than a slump….I stopped altogether and didn't know what to do to get myself back again. I was in need of something to pull me back to myself. Will this journal do it? We shall see. I picked it back up and flipped to a page and started my journey with this fun journal.
I opened my journal and read a warning message on the second page…hee hee…

I will definitely grieve for my little book, it's just sooo cute with it's clean, straight pages. Live more recklessly?? Let's get started!!
First to read the instructions! The letters are screaming "color me in" so I precede.
Day 1…..Flipped open my book to my first prompt. My first page says 'Collect Fruit Stickers Here'. I'm already getting good vibes because the journal gods are watching and gave me an easy task that really is soooo me. I've been collecting fruit stickers for some reason for the past few months and I seem to have been sticking them everywhere (it's an obsession that I should speak to a professional about…I volunteer you). When the husband asks me why, I always reply "I'm going to use them for something" but at that moment I never knew for what. Enter journal gods.
I stick my favorites on it immediately and I get a little jolt of energy…..oh dear this is fun….what can I do next! I broke out my pens and away I went. Who knew drawing in books was so fun!!
Day 2…The next page I flipped to was a blank page that said to "draw lines while in motion". Hmmm….grabbed my color pencils and went for a walk. Drew various lines trying to stay straight but with no luck.
Day 4…another blank page with a prompt for me…"this page is a sign. what do you want it to say?". The first thing that came to my mind of course.
Day 6…the book wants me to crack the spine. I've never done that to a book before. Here goes nothing.
Day 7…started carrying my book around the house with me in a basket with my various wrecking materials. Husband is starting to look at me weird….I shake it off and get back to work on the page I flipped to that says "fill this page with circles". Task accomplished and I am really feeling the love for my new pens.
Day 9 and another sign from above. Feeling a bit unsettled after a bad day at work. Page that I flip to says to tear it out and crumple it. I feel better within minutes!!
Day 11…Family members are curious today of the book I have had my hand in for the past few weeks. On my page today I am instructed to "close your eyes…connect the dots from memory". After I have a try at it so does my family.
When we are done I get destructive and leave my mark…
And then I take a bite out of it. I am letting loose and having a blast and getting stares from everyone.
Day 14…I am definitely feeling more creative. While sitting on the couch I flip to an instructions page with my new red sharpie in hand (I've been itching to write with it). I'm instructed to "Doodle over top of: the cover, the title page, the instructions and the copyright page". I realize that I am going to need more that the supplies in my little basket and off I go with everything to my scrapbooking desk. An hour later I am feeling wonderful and I have finally made my journal really look like my own. I have to wait for the paint and stickles to dry before I do anything else.
While waiting for it to dry, I finish a project that I have had on my desk for a while. I realized that my slump is over and I am creating again at my desk.
I continued with my journal and I am proud to say that I have only a few blank pages left in it. As promised in the beginning, I can honestly say it helped me be a little more reckless and it was helpful in getting out of my creative slump that I was in. It definitely made me get messy and step out of the box. What it also made me realize is that I am more of a art journal girl than a traditional journal girl.
While browsing Keri Smith's website I came across the Wreck It FLICKR group and the amazing images of many different journals and other's interpretations of their own. Their images are so very inspiring! I definitely encourage you to look!
Pros:
Creative fun in your hands!
You don't need any special tools to wreck it, just what you have on hand.
Great price and keeps you busy for hours and hours!
Cons:
Hmmm….I really don't have any. Not even one!
This book retails for $12.95 and can be found in almost every book store.
So what do you think? Have you Wrecked a journal or do you have one sitting there waiting to be done like I did? Let us know! Please feel free to share links to your journal in the comments. We would LOVE to see them!
GIVEAWAY ALERT! In celebration of my creative slump being OVER, we are giving away one pristine unwrecked copy of Wreck This Journal to one lucky reader. Just leave a comment on this post to be entered; winner to be picked on Saturday, September 12, 2009. Good luck!
Click on the link at the top of the page to visit Craft Critique for comments, giveaways and more!